Weblog
• Iran's 'The Badger' nominated at US Riverside Int'l Film Festival
2021-04-30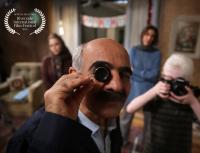 Iran's 'The Badger' nominated at US Riverside Int'l Film
Festival
Iranian feature film, 'The Badger,' directed by Kazem Mollaie, was nominated for the Best Film Award at the 19th edition of the Riverside International Film Festival (RIFF) in the US.
'The Badger' is the story of a woman, Soodeh Sharifzadegan, performed by renowned female Iranian comedian, Vishka Asayesh, who is going through a challenging time in her private life on the verge of her second marriage.
The cast and crew of the film include Hassan Majuni, Mehraveh Sharifinia, Behnoush Bakhtiari, Reza Behboudi, Mehdi Hosseini-nia, Siavash Cheraghipour, Mahmoud Nazar-Alian, Hamidreza Mohammadi, Mohammad-Amin Asadi, Yadollah Shademani, Neda Dehshiri and Gohar Kheirandish.
The Badger was premiered at the 23rd Shanghai International Film Festival [ASIAN NEW TALENT AWARD] in August 2020 in CHINA.
Annually since 2002, RIFF has brought the best in contemporary international and independent films to the Inland Empire region of Southern California, the fastest growing area in the US.