• Biography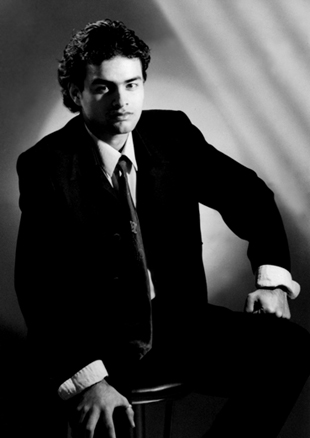 .
.
.
.
.
.
.
.
.
.
.
.
.
.
.

.

.

.
Autobiography
When I was a kid, I wished I couldn't see well to be able to wear glasses …
And now I am a man who wears glasses …
In 1981 I was born in Heshmatie hospital in a city named "Green Land" (Sabzevar) …
I have 3 date of birth … In my ID it is written "20th of September" , I was born on the "3rd of December" , but I like "30th of January" the most .
When my shoes' size was 18, I went to school and my father died at the same time …I have long nails and I don't have so much hair on my head … The size of my trousers is 36 right now and about my shoes it has become 42 …
I really like the smelling of heater, carpentry, gas, spring, pipe, new book, the city of Booshehr, the wet feeling of a flower house that stimulate your appetite and also the smelling of a Siv soap.
I sneeze immediately When I chew a green Orbit gum with the Eucalyptus flavor… and when I sneeze I become so excited and I believe that I am still alive …
On Fridays definitely I eat the sunflower seeds and on Friday evening I am really depressed. I should mention you just to buy the "Tabarok" tomato paste that never mildews.
There is a big space between these two front teeth in my mouth and there are also two black spots on my back that makes so many people tell me that I will be so blest and rich in the future !
I have so much hair on my wrist but I don't have a watch … My nose is like a cucumber and I think there is a mistake in my ear shape !
My favorite food is "Ghormesabzi" accompanied with salt shaker, and when I weighed myself on a boy scale in the pavement, I was 79 kilos … Some years ago a tailor did a favor and told me my height with her old meter:177 cm .
My blood type is +B and I present my clean blood to charity 3 times to let some people know what a nice person I am .
In the end : I am so pride that made me crazy,but for sure I haven't killed anyone in my life … I am just a man with glasses that unfortunately like the glasses just to see better !

.
Biography
Kazem Mollaie started filmmaking with a short film named "FROM GAME TO..." (1999). Mollaie holds a B.A. in Cinema Directing from "Soore University of Tehran" in 2005. He has been the member of several organizations such as "Iranian Young Cinema Society" (IYCS), the "Iranian Alliance of Motion Picture Guilds" (Khaneh Cinema) and member of Board of Directors of "Iranian Short Film Association" (ISFA). He is known for his first feature movie named KUPAL (2017) and short films like DELETE (2011) and MINUS (2009). His latest film is THE BADGER (2020).
Kazem Mollaie (Director, Editor, Writer, Photographer)
• Born on the 21st. September 1981 in Sabzevar, Iran
• Member of "Iranian Youth Cinema Society" (IYCS) / 1998
• Has started filmmaking with a short film named "From Game to ..." / 1999
• Holding two personal "Photo Exhibitions" / 1999 – 2000
• Director of the film and photo center of "Soore University of Tehran" / 2003 – 2005
• Holds a B.Sc. in Cinema Directing from "Soore University of Tehran" / 2005
• The author of cinematic page of "Asrar newspaper" / 2005 – 2006
• Member of "Iranian Alliance of Motion Picture Guilds" (Khaneh Cinema) / 2009
• Member of  "The Iranian Short Film Association" (ISFA) / 2009
• Jury Member of the "Iranian Short Film Academy" / 2011 – 2019
• Member of the Selection Committee of the "8th. Varesh International Film Festival" / 2015
• Member of the Selection Committee of the "32nd. Tehran International Short Film Festival" / 2015
• Jury Member of "Kichah Film Festival" / 2016
• Chief Editor of ISFA website (iranianshortfilm.com) / 2016
• Member of Board of Directors of Iranian Short Film Association (ISFA) / 2016 
• Member of the Selection Committee of the "34th. Tehran International Short Film Festival" / 2017
• Jury Member of the "19th. Iran Cinema Celebration Academy" (Khaneh Cinema) / 2017
• Jury Member of the "9th. Wordless International Short Film Festival" / 2017
• Spokesman of "Film Week of Serbia" in IRAN/ 2018
• Member of the Selection Committee of the "9th. Iranian Independent Short Film Festival" / 2018
• Special guest and Spokesman of Round Table of Iran's Cinema in the "5th. Hanoi International Film Festival" in VIETNAM / 2018
• Manager of public relations of the "3rd. National Mowj Short Film Festival" / 2018 – 2019
• Jury Member of the "16th. Qazvin Film Festival" / 2019
• Jury Member of ISFA AWARD in the "9th. Varesh International Film Festival" / 2019
• Member of the Selection Committee and the Jury Member of the "16th. Nahal International Film Festival" (Script Section)/ 2019
• Workshop of the "New Ideas, New Scripts" in the "37th. Tehran International Short Film Festival" / 2020
• Member of "Directors Guild of Iran" (Khaneh Cinema) / 2021
• Jury Member of the "18th. Nahal International Film Festival" (National Section)/ 2022
• Jury Member of the "Tak Acting Celebration" / 2022
Filmography
2)
Tel
/ Short Film / 2000
7)
Minus
/ Short Film / 2009
9)
Kupal
/ First Feature / 2017