Films
• Carmen Funebre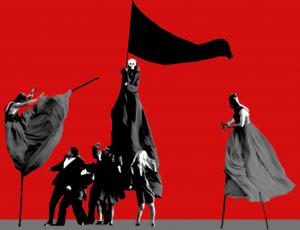 CARMEN FUNEBRE
TEATRE BIURO PRODOZY
In The 23rd International Fajr Theatre Festival
In Front Of Vahdat Hall
25-29 January 2005
10:00 PM
Film Biography:

Original tape : DV-Cam
Speed : 25 IPS
Film language: Persian & English
Subtitle:English
Color
Time : 21 Min
Product of 2005

Credits :

Camera , Editing & Directing : Kazem Mollaie
Director Of Theatre : Pawel Skotak
Tour Producer Of Theatre : Jane Frere
Title : Q.Mars Kalami
Advertising : Reza Vojdani
Special Thanks To :
Nasim Bahadori – Bijan Moharrami – Shadi Sadat Tayyebi - Mohammad Akbari – Mojtaba Esmaeelzadeh – Nima Kafil Davani – Ali Mir Soltani And ...
Distributor : Jane Frere ( janefrere@aol.com )
A Film By : Kazem Mollaie
Winter 2005 – IRAN
About the film :
Teatr Biuro Podrozy ( Poland ) take their universally acclaimed anti war epic Carmen Funebre to Iran to the 23rd International Fadjr Theatre Festival, Tehran. The response from the audience is overwhelming as it from 80 to 1000 people over three days. The passion play performed on stilts and giant leather-masked warlords towering two metres high give the opening scenes a sense of tangible menace. The fifty minute performance evokes symbols of rape, torture and killing. A thoroughly contemporary view on Iran's own passion play Ta'zieh.
Kazem Mollaie , a graduate film student from Sooreh University came every night with his DVcam Recorder to film Carmen Funebre at Fadjr Theatre Festival 2005. He gave it as a gift to Jane Frere the company's tour producer on their departure. The film says as much about the warmth and generous spirit of the Iranian audience as it does about this powerful piece of anti war theatre that has been shown in 38 countries across five continents.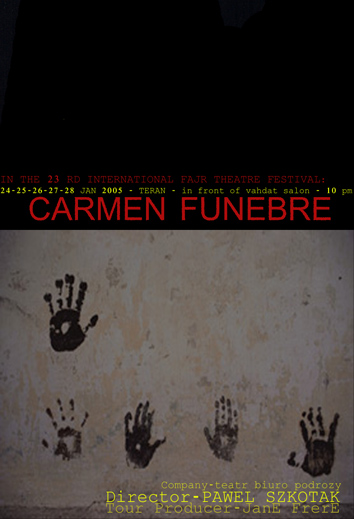 Festivals & Awards :
- Showing (Carmen Funebre) in Sixth Biennial Conference of Iranian Studies in London - UK 2006

- (Carmen Funebre) Was entered to the "13th Raindance International Film festival" in London - UK 2005
-The movie of (Carmen Funebre) participated in the competition part of the " First Art Alumnus Film Festival " in Tehran – IRAN 2005
- Recognized (Carmen Funebre) to Participate to the "International Section" in " 5th Student International Film & photo Festival " in Tehran - IRAN 2006

Last Update: 2010-02-18