Weblog
• The Badger [LAAPFF21 Capsule Review]
2021-10-30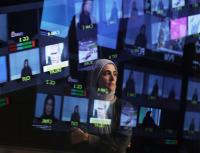 The Badger [LAAPFF21 Capsule Review]
Writer: Nuha Hassan  
Kazem Mollaie's The Badger is a thrilling drama set in the bustling city of Tehran during the eve of Eid-al-Adha festivities, a holy day in Islam. A mother calls a pest control technician to inspect their home and he tells her that there are termites that live together beneath the walls.
The home belongs to Soodeh Sharifzadegan (Vishka Asayesh), who is preparing for her second marriage when she realizes that her son, Matiar (Mohammad Amin Asadi) is missing. Soodeh receives a package containing a pen drive with a video of her son being held captive. She is threatened to pay a ransom, 10 Bitcoins for her son's safe return. She reaches out to friends, family and even estranged members of her family to bring her son home. As Soodeh's world crumbles down in front of her, she realizes the challenges that she has to face to overcome this adversary in her life. What's more damning is that there is an infestation that's growing inside of her house that is more serious than the termites. 
The Badger is thrilling and suspense-filled,  which prepares the audience for a stressful watch. The pacing and narratives fall into place so perfectly, and the twist at the end might shock some viewers. The standout performance of The Badger is Asayesh, and she delivers an emotional performance, mainly her posture during the most stressful moments throughout the movie. "Termites behave like a family. They stick together, so you have to get rid of them all to eradicate them", lays the metaphorical narrative that builds throughout the movie to reveal an unforgettable ending.