Weblog
• Iranian film 'The Badger' wins RIFF award
2021-05-04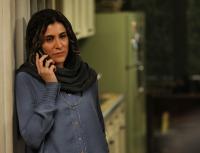 The Iranian film 'The Badger' won four major awards at the 19th annual Riverside International Film Festival (RIFF).
The closing ceremony of the 19th Riverside International Film Festival was held virtually last night (Sunday), and the film 'The Badger' directed by Kazem Mollaie won the awards for Best Feature Film, Best Actress (Vishka Asayesh), Best Ensemble Cast and Audience Best Feature. 
'The Badger' is about a woman named Soodeh Sharifzadegan who is involved with a difficult challenge in her private life, while she is close to her second marriage.   
Founded in 2002 in California, the Riverside International Film Festival is held annually in Feature Film, Documentary, Short Film, Student Film, Animation, and student. RIFF seeks diverse and challenging films of social upheaval, human conflict, and the boldness of the human spirit.
The 19th edition of the festival was held virtually from April 27 to May 1 in Riverside, California, with workshops and online Q&A sessions.